College Preparatory School
The students can choose the college preparatory curriculum from CBSE, Cambridge and IB. The programme focuses on college placement regardless of the curriculum the students opt. They study in an environment that is more in line with the college than in High School. Students are taught soft skills, communication skills (verbal & written) and experiential learning of working in organisations.
This work study program prepares the students to become professionals and experienced employees as they enter the world of work. Right from handling the front office challenges, orienting parents, peer teaching, maintaining discipline in the dining hall to managing inventory in the school stores allow them to learn social behaviour, analytical, personal and professional skills to effectively navigate and manage a range of situations that they may encounter in life and be productive during their free time.
The career counselor provides guidance on how to link student's strengths or circumvent their weaknesses to match their career goals. The students gather additional information about available college courses from the colleges & universities across the world that visit the school periodically.
Passing successfully certain diploma courses such as AICE offered at Treamis can help students get placed comfortably in their college of choice.
Academic Counseling
Select faculty members serve as academic advisers to help guide students through their education at Treamis and beyond. Advisers discuss all the topics of school work with the students including student assessment, class selection, and preparation for semesters / school years. These meetings also give students the opportunity to discuss areas where they may need help.
As students move to higher classes, regularly
scheduled meetings with advisers help them to Identify their interests and plan for post-graduation.
Students are required to meet with their assigned adviser in the academic year and frequency of visits increases with grade level. Parent attendance at these meetings is encouraged.
AICE
The AICE Diploma, which is overseen by the University of Cambridge, demands that students fulfill a number of rigorous requirements. This program can earn students recognition, college credit, and scholarship money at certain schools, and it's also an excellent way to further your education all around.
Seven credits are required for earning the diploma: one credit each from Groups 1, 2, and 3, and three credits distributed across the groups in any desired combination. The last credit is earned through Cambridge International AS Level Global Perspectives & Research. Optionally, up to two credits may be taken from Group 4, the interdisciplinary and skills-based subjects group.
Passing an AS Level exam (corresponding to a one-year course) earns one credit; passing an A Level exam (corresponding to a two-year course) earns two credits. All exams must be taken within a 25-month period.
The grades in each subject are A*, A, B, C, D, or E, or a fail. An A* is similar to a high A+ in the US, while an E is similar to a C.
Depending on the scores, the student can earn the AICE Diploma at Pass level, with Merit, or with Distinction. There are 20-60 points awarded per credit. Here are the point ranges required to meet each level of distinction:
AICE Diploma at Pass Level: 140-249 points
AICE Diploma with Merit: 250-359 points
AICE Diploma with Distinction: 360 or more points (maximum score is 420 points)
The student will get certificates in the subjects taken even if the diploma is not earned. This will help in getting into college or earning college credit.
The whole AICE program is overseen, ultimately, by a branch of the University of Cambridge. The classes are hard, and most are offered at two levels: the Advanced Subsidiary (AS) Level, and the Advanced (A) Level. AS Level classes are one year long and less demanding than their A Level counterparts, which are two years in length.
Classes tend to be narrow and specific in focus; the AICE Diploma entails an extremely specialized program. In this way, AICE is more like IB than it is AP (if you're familiar with these programs).
The AICE Diploma is internationally used and recognized, and is accepted at many universities around the world. At some schools, AICE courses will earn you college credits (we'll go over this in more detail when we talk about the benefits of the program).
College Credit
The students will earn up to 45 hours of college credit from the AICE Diploma. Individual course certificates can also earn college credit if the student does not earn the diploma. This depends on which college the student wants to attend. The colleges around the world that recognize AICE can be found at the Cambridge website.
The AICE program is also described as an acceleration mechanism, meaning it gets the student ready for hard college classes at a more rapid pace than traditional coursework. As with the AP and IB programs, AICE involves studying college-level material before the student graduates from high school. The student is also more likely to be accepted into honors classes right away when they get to college if they have an AICE (or AP or IB) Diploma under their belt.
College Placement
The school helps students build upon their positive experiences at Treamis to gain admission into colleges and universities all over the world. Applying to colleges and universities is an exciting and revealing experience which gives you a chance to look at who you are, what you value and what you
might want to do with your life.
Universities and colleges from around the world visit the school frequently and help the students understand the courses and programmes available in different countries.
Internship Program
High school students will have the opportunity to work as interns in the local business community during summer and winter breaks.
Students in this program are selected by the business firms in collaboration with the school. The emphasis of the program is on career and personal development.
Work Study
Senior students will have the opportunity to work in various departments within the campus. The program balances the students' academic activities and the work assignment
allowing the students to experience the work environment while being at the campus. Students earn credits for being in the program.
College Board – PSAT Centre
Treamis is a centre for taking PSAT. The PSAT/NMSQT is the Preliminary SAT/National Merit Scholarship Qualifying Test. The PSAT is a great primer for the SAT, and even the ACT, but it's more than just a trial run. PSAT scores are used to identify National Merit Scholars
and award merit scholarships.
The PSAT won't count towards your college admissions applications. However, PSAT can be used as practice for the SAT and ACT and an important guidepost on your college admissions journey.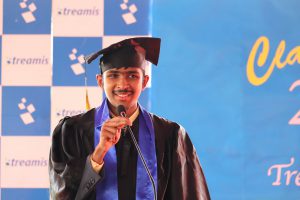 Very few children in today's world get the opportunity to study in a school like Treamis, and I am very grateful to be one of them. Treamis has actively encouraged their students to adopt a growth mindset, making learning a joy rather than a burden. I have scored stellar results in 12th grade (A level) and topped globally with 100% in Cambridge International AS and A level Mathematics – something that I definitely did not expect when I joined Treamis in 6th grade. This is not without the incredible support of the Treamis family.
Girish Krishnan
Alumni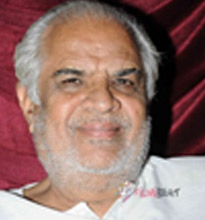 "Environment matters all in moulding the personality. Youngsters can change their thoughts and change the world"
HG Dattatreya
Artist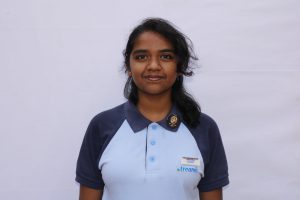 "I was at Treamis for 2 years. I am the Cambridge commerce topper for the year 2020. Treamis is a place full of opportunities. The teachers here are very hardworking and very supportive and I kept learning from them.  My time at Treamis has been extremely fun and very fulfilling. The school has such a good balance that everything in the school has contributed to my growth and my success. I am currently pursuing BAEcon Accounting & Finance at the University of Manchester".
Renu Ravichandran
Alumni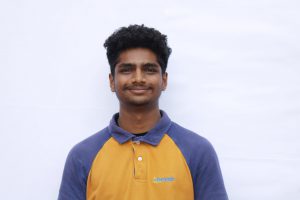 "I was at Treamis for 4 years. My experience here was really fun and I am always going to cherish it. I had some amazing mentors who guided me to the point where I am today. Treamis offers amazing flexibility with opportunities aplenty. I am currently pursuing my undergraduate studies in Economics and International relations at the University of Birmingham."
Siddharth Gundala
Alumni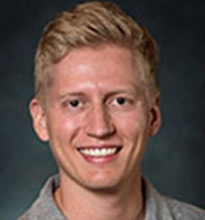 "I've seen a meaningful upbringing of the Treamisians in terms of understanding international mindedness-global engagement, inter cultural respect and diversity, multilingualism and respect in their own identity. I'm sure they are all set to face the world"
Ryan Goeken
Assistant Director of International Recruitment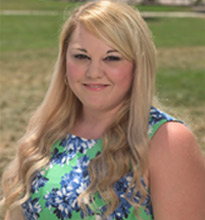 "I've enjoyed every moment of my interaction with the Treamis students. I felt they are completely prepared to face the challenges of the global world, both physically and mentally. All the best to them"
Julie Huffman
Assistant Director of International Admissions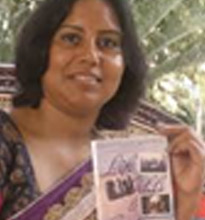 "It's a joy for me to leave my daughter in the hands of Treamis mentors. I see her being facilitated to grow up holistically as a stress free self-discoverer"
Anvita Bajpai
Treamis parent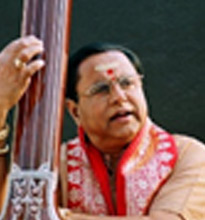 "Treamis believes that education is acquiring life skills and not mere qualification"
RK Padmanabha
Vocalist maestro