Treamis World School
Treamis International School
Learning Support
Student Counseling
College Preparatory School
TMUN
Treamis International School is authorized to offer Cambridge & IB programs whereas Treamis World School is authorized to offer CBSE program.
Treamis Learning Objectives
Regardless of the curriculum, learning at Treamis is way beyond the knowledge gained from books.  Here learning happens with life skills incorporated in all the lessons learnt and in all forms of activities inside and outside the classroom. Right from boarding the school bus till returning home, all the actions and responses connect with life skills.
Be it team based classroom projects or nurturing interpersonal skills in relating to others empathetically or building up confidence in the power of expression through participation in debates, the learning integrates defined activities generating determined outcomes.
The learning system creates instructional scenarios in artificial representations pertaining to real life situations in the form of simulations, where the learners are placed in an experiential world. This gives them a first-hand experience of a deeper understanding and a smarter handling of real life challenges.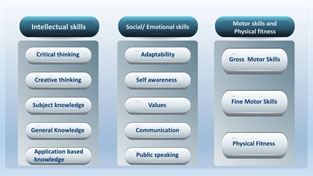 The learning approach
Treamis adopts a constructivist and student –centric approach to learning where knowledge is not only acquired but constructed. The emphasis is on active learning with respect to real life involvement, connectedness and concurrency. Effective approaches to teaching and learning are developed within the global contexts promoting global engagement, multilingualism, intercultural understanding and pride in self-identity.
The sole focus is to develop self-regulated learners who learn to set goals, inquire, explore, self-interrogate, self-critique, reflect on performance, generate perseverance, try out multiple ways of solving and customize their own learning process. Inculcation of comprehensive skills like thinking, experiential, problem solving, communication, socio-emotional, organization, affective and research in the learning curve makes learning a life-long experience.
The age appropriateness
The curriculum is designed to give age appropriate outcomes as the student progresses to different levels from preschool to high school.
The curriculum focuses on cognitive and motor skills in the preschool, transdisciplinary concepts in the primary school and practical approach in middle school.
At the high school level, the focus of the curriculum is to prepare students for the Board examination and college.
The wholesome learning framework encompasses academics, art, sports handled out of passion with a purpose.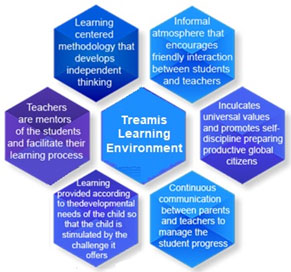 Student Counseling
Treamis counseling program is designed to enhance independence and confidence and encourage optimal learning of both academic and life skills. It ensures an environment that is inspiring and rewarding by implementing research based, effective programs that create awareness and prevent problems such as bullying or victim of bullying.
Counseling is achieved through interactive skill building sessions on core life skills such as confidence, communication, decision making, conflict resolution, teamwork and leadership, manners and etiquette, goal setting, etc.
Learning Support
Treamis focuses on holistic development of each child. Some children can reach their potential on their own; some will get there with support through counselling and special education.
Treamis Special Educators help children with learning difficulties. After detailed discussion with parents, an Individualized Education Plan (IEP) is prepared for each child. Intervention is provided through one-on-one sessions and in small groups. Assessments are conducted according to each student's needs and potential. The reports are discussed periodically with parents.
The members of Special Education Department are qualified and trained as Rehabilitation Council of India norms.
The department organizes monthly workshops for teachers to identify and manage students that require special needs.
Counselling is also provided for age related issues, emotional and behavioural challenges faced by students The department also conducts quarterly seminars for parents on issues related to parenting.
TMUN
Teaches Oratory skills, diplomacy, general knowledge… from Grade 6 onwards led by Grade 11 & 12 students.
Peer Teaching
Community Service
Treamisians are empathetic social contributors working together towards touching lives through continuous actions driven by the sense of belongingness. Serving the community once a while is not the objective. Rather, the urge of giving back to the community where they belong, comes from their beliefs, values and empathy.